TOMY F1X Steering Wheel
Formula style steering wheel for Thrustmaster, Logitech and OSW bases

Your sponsorship gives the right to a significant discount on the purchase of the product of the project.
Even if the project does not reach its funding objective, the sponsors will receive their product, although the production times may be extended because it is not possible to make all the investments.
Once the goal is reached, the campaign will be closed and the product of the campaign will have its normal price.


Finished campaign
With this steering wheel it is not necessary to buy a keypad, or additional screens or instrument panels, it has everything integrated. Being all integrated in the steering wheel also facilitates its handling because everything you have more at hand.
Connection using a single USB wire.
4.3 "TFT touch screen with 22 RGB LEDs for revolutions and flags.
10 push buttons.
2 Rotary encoders with central locking.
4 two-position switches (ON-OFF-ON). They can be pressed up or down and return to their central position.
In total 26 functions to configure in your favorite simulator.
Magnetic paddles.
Interchangeable emblem system.
Customizable initial screen.
Steering wheel diameter: 30 cm.

Finishes in leather and carbon fiber look through vinyl.
The adapter for the base is not included since depending on your base you need some things or others. When you have hit the button to sponsor this campaign add the accessories you need in your shopping cart, you probably need the following things according to your base:
Logitech base - Quick release TRX + Logitech adapter
Thustmaster base - Star spacer + Thrustmaster adapter
OSW base - You probably only need a spacer since these bases include adapters for 70mm steering wheels, you can also put a Quick release TRX if you want, in that case you dont need a spacer.

The proceeds will be used to purchase the materials for each of the sponsors steering wheels and various investments. Although the product is not profitable at this price, since manufacturing hours do not compensate for the profit, revenues are produced in a short space of time that are used for investments.

The money will be invested in one 3D printer, since a single printer could take up to 3 full days to print all the necessary parts for a single steering wheel, in this way the printing time would be reduced to a single day significantly shortening the time of steering wheel production. It will also be invested in a cutter printer.

Update #3 - Prototype

Prototype and shipments

Working prototype of the TOMY F1X, only small adjustments are necessary, here you have it with a new layout inspired by the Porsche 919 that will also be available on all devices with 4.3 "screen, in the next few days shipments to the backers will begin.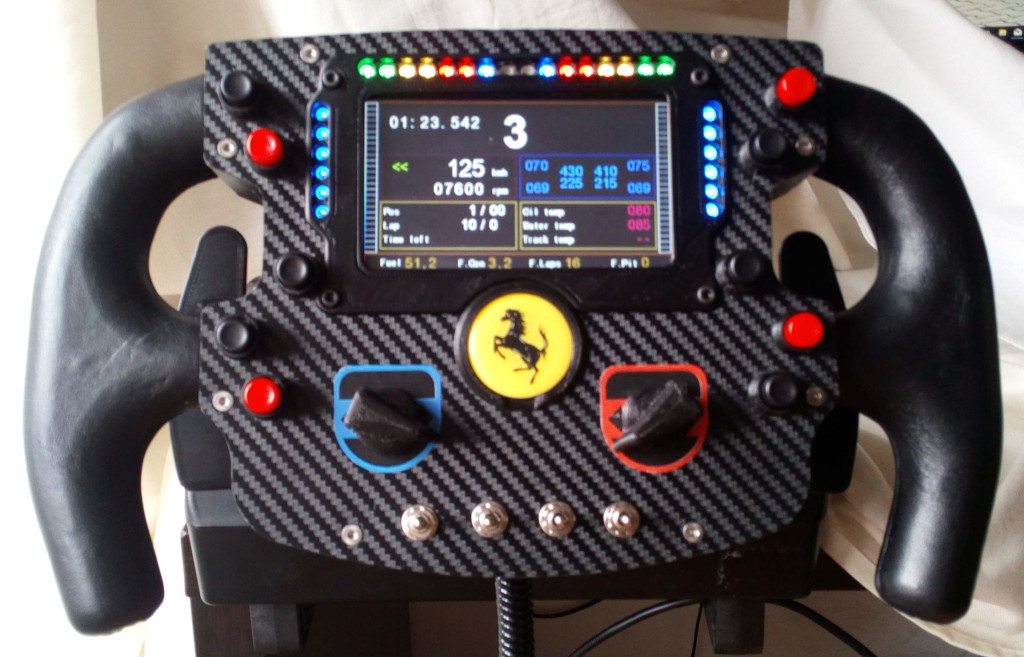 Update #2 - Test

Front Test

Test of operation of the new electronics and programming, some small changes have been made in the initial design, some embellishers of the somewhat larger rotarys, small changes in the front of the screen and in the emblem that is compatible with the emblems of TMCustomLogos.


Update #1 - Start of the campaign

The campaign is underway!!!
The campaign begins, hoping it will be as good as the previous one where thanks to the sponsors and their suggestions, the manufacture of the TOMY F1 came to fruition, now with this new campaign we can create the new TOMY F1X.
I leave an image of what will be inside the steering wheel, an electronic board will be responsible for removing wires and make assembly faster.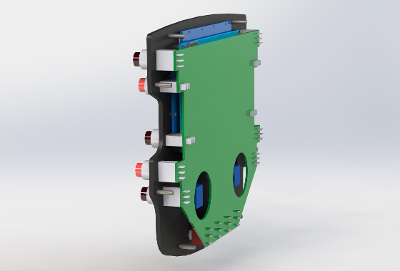 There are still no questions.